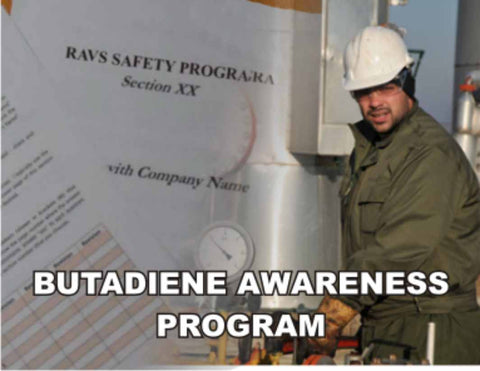 Butadiene Awareness Program - ISNetworld RAVS Section - US
$ 24.95
Butadiene Awareness Program - ISNetworld RAVS Section - US
This Butadiene Awareness Program (ISNetworld® RAVS®* Section), in addition to being a complete and functioning written safety program (chapter), it also contains all the required text elements that are sought by the ISNetworld RAVS® (Review And Verification Service) reviewer. This plan has been previously submitted and has achieved a 100% approval rating for our clients.
All programs are guaranteed now and in the future to achieve 100% approval. 
There are NO maintenance or subscription fees. 
Simply notify us if any program falls out of compliance and we will correct it at NO CHARGE.
You are downloading a MicroSoft® Word document file to your computer that is completely editable:
Butadiene Awareness Management Program:
Approximate Word Count: 1,295
Approximate Number of Pages: 4
Page Reference Answers to RAVS Reviewer's Questions: 8
 You will also receive instructions for a simple two-step process to place your company name and safety person's name throughout this word document to conform it to your company. Please review, and feel free to alter or add to it as you wish with any specific company information or safety policies that you may already have.
The first two pages of the document are guidelines for conforming this safety manual section, an index for completing the RAVS® questionnaire (with all page references), and uploading the section.
If you experience any difficulty filling out the questionnaire, or have any questions in general about these documents, call 314-570-0072, or e-mail me at vsunshine1@gmail.com.
An excerpt from ISNetworld® RAVS®* Safety plan Butadiene Awareness Management Program
     …          It is understood that our employees' exposure to Butadiene may be minimal or non-existent, however all jobsites shall be considered. Butadiene may be present at refineries and petrochemical plants. Butadiene is used in the production of styrene-butadiene rubber and polybutadiene rubber for the tire industry. Other uses include copolymer latexes for carpet backing and paper coating, as well as resins and polymers for pipes and automobile and appliance parts. It is also used as an intermediate in the production of such chemicals as fungicides. [1]

Butadiene can pose short and long term health hazards from exposure. Breathing very high levels of butadiene for a short time can cause central nervous system effects, blurred vision, nausea, fatigue, headache, decreased blood pressure and pulse rate, and unconsciousness. There are no recorded cases of accidental exposures at high levels that have caused death in humans, but this could occur. Breathing lower levels of butadiene may cause irritation of the eyes, nose, and throat. Skin contact with liquefied butadiene can cause irritation and frostbite. Butadiene is a carcinogen. [3]

Engineering controls and work practices.

Replace with Company Name shall institute engineering controls and work practices to reduce and limit employee exposure to Butadiene. Wherever the feasible engineering controls and work practices which can be instituted are not sufficient to reduce employee exposure, ....