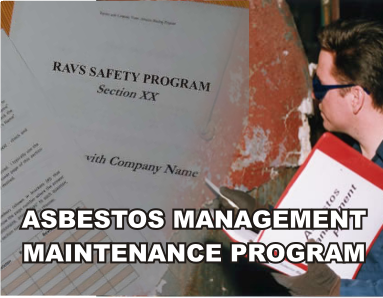 Asbestos Management-Maintenance Program - ISNetworld RAVS Section - US
$ 24.95
Asbestos Management-Maintenance Program - ISNetworld RAVS Section - US
This Asbestos Management-Maintenance Program (ISNetworld® RAVS®* Section), in addition to being a complete and functioning written safety program (chapter), it also contains all the required text elements that are sought by the ISNetworld RAVS® (Review And Verification Service) reviewer. This plan has been previously submitted and has achieved a 100% approval rating for our clients.
 All programs are guaranteed now and in the future to achieve 100% approval. 
There are NO maintenance or subscription fees. 
Simply notify us if any program falls out of compliance and we will correct it at NO CHARGE.
 You are downloading a MicroSoft® Word document file to your computer that is completely editable:
 Asbestos Management-Maintenance Program:
Approximate Word Count: 1,705
Approximate Number of Pages: 5
Page Reference Answers to RAVS Reviewer's Questions: 9
  You will also receive instructions for a simple two-step process to place your company name and safety person's name throughout this word document to conform it to your company. Please review, and feel free to alter or add to it as you wish with any specific company information or safety policies that you may already have.
The first two pages of the document are guidelines for conforming this safety manual section, an index for completing the RAVS® questionnaire (with all page references), and uploading the section.
If you experience any difficulty filling out the questionnaire, or have any questions in general about these documents, call 314-570-0072, or e-mail me at vsunshine1@gmail.com.
An excerpt from ISNetworld® RAVS®* Safety plan Asbestos Management-Maintenance Program
      Replace with Company Name will provide employees whose work activities may contact Asbestos Containing Material (ACM) or Presumed Asbestos Containing Material (PACM) but do not disturb the ACM or PACM during their work activities with asbestos awareness training initially, and each year thereafter.  [1]   The training program shall be done in a manner that the employee is able to understand.  The course must cover the health effects of asbestos exposure, the hazards of smoking and asbestos, use of respirators, locations of asbestos materials and signs of their damage, and who to tell and what to do if such materials are dislodged or become non-intact.  Written materials relating to the employee training program will be readily available to affected employees, the assistant Secretary of Labor for Occupational Safety and Health and the director of the National Institute for Occupational Safety and Health.   [2]
 Workers who do asbestos construction clean-up work must receive annual asbestos hazard awareness training.  Smoking is not allowed in the work area.  Wet methods or wetting agents (unless not feasible) and appropriate work practices must be followed.  HEPA vacuums must be used.  Prompt clean-up and disposal of debris in leak-proof containers is required.
        The following work practices are prohibited:  use of high speed abrasive disk saws without HEPA filtered exhausts or point-of-cut ventilator, use of compressed air without capture device, dry sweeping/shoveling or other dry clean-up, and employee rotation to circumvent permissible exposure limits.
     Signs and labels shall identify the material which is present, its location, and appropriate work practices which, if followed, will ensure that Asbestos Containing Material (ACM) and/or Presumed Asbestos Containing Material (PACM) will not be disturbed. The employer shall ensure that employees working in and adjacent to regulated areas comprehend the warning signs.