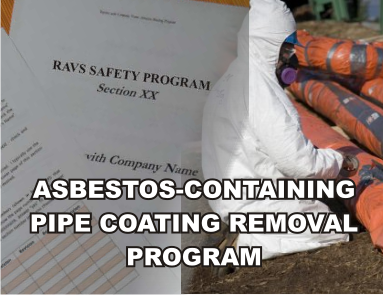 Asbestos Containing Pipe Coating Removal Program - ISNetworld RAVS Section - US
$ 24.95
Asbestos Containing Pipe Coating Removal Program - ISNetworld RAVS Section - US
This Asbestos Containing Pipe Coating Removal Program (ISNetworld® RAVS®* Section), in addition to being a complete and functioning written safety program (chapter), it also contains all the required text elements that are sought by the ISNetworld RAVS® (Review And Verification Service) reviewer. This plan has been previously submitted and has achieved a 100% approval rating for our clients.
All programs are guaranteed now and in the future to achieve 100% approval. 
There are NO maintenance or subscription fees. 
Simply notify us if any program falls out of compliance and we will correct it at NO CHARGE.
You are downloading a MicroSoft® Word document file to your computer that is completely editable: 
Asbestos Containing Pipe Coating Removal Program:
Approximate Word Count: 2,050
Approximate Number of Pages: 5
Page Reference Answers to RAVS Reviewer's Questions: 12 
 You will also receive instructions for a simple two-step process to place your company name and safety person's name throughout this word document to conform it to your company. Please review, and feel free to alter or add to it as you wish with any specific company information or safety policies that you may already have.
The first two pages of the document are guidelines for conforming this safety manual section, an index for completing the RAVS® questionnaire (with all page references), and uploading the section.
If you experience any difficulty filling out the questionnaire, or have any questions in general about these documents, call 314-570-0072, or e-mail me at vsunshine1@gmail.com.
An excerpt from ISNetworld® RAVS®* Safety plan Asbestos Containing Pipe Coating Removal Program
      Replace with Company Name has responsibilities to take specific actions to protect the health and safety of these workers whenever they are engaged in such activity, even though the work which resulted in the dust and debris was performed by other workers. The competent person must make frequent and regular inspections of the job site, materials, and equipment. The competent person must be capable of performing or supervising the regulated area and have authorization to take prompt corrective actions to eliminate a hazard. [2]

Our obligations include the following items in all cases. Replace with Safety Person's Name will assign a competent person which must supervise all Class IV jobs involving contact with and clean-up of asbestos-containing materials. A competent person is an employee who has received specialized training to identify asbestos hazards, to select the best control strategy, and to take prompt action to correct or eliminate problems. Engineering controls & work practices to reduce/maintain the exposure below time weighted average (TWA) shall be used except to the extent that such controls are not feasible. Some of them may be exhaust systems for hand tools, wet methods, clean-up procedures & PPE. The competent person who supervises Class IV work must receive training equivalent to EPA's 16 hours of operations and maintenance training and annual refresher training. Training must focus on the locations of suspect materials, work practices, job assessment, and methods of control.