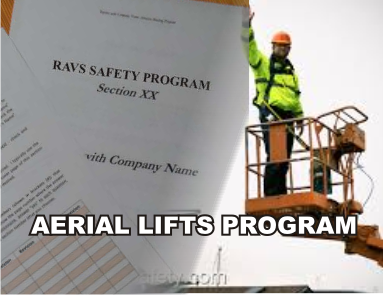 Aerial Lifts Program - ISNetworld® RAVS Section - US
$ 24.95
Aerial Lifts Program - ISNetworld RAVS Section - US
This Aerial Lifts Program (ISNetworld® RAVS®* Section), in addition to being a complete and functioning written safety program (chapter), it also contains all the required text elements that are sought by the ISNetworld RAVS® (Review And Verification Service) reviewer. This plan has been previously submitted and has achieved a 100% approval rating for our clients.
All programs are guaranteed now and in the future to achieve 100% approval.  
There are NO maintenance or subscription fees. 
Simply notify us if any program falls out of compliance and we will correct it at NO CHARGE.
You are downloading a MicroSoft® Word document file to your computer that is completely editable:
Aerial Lifts Program:
Approximate Word Count: 1,155
Approximate Number of Pages: 4
Page Reference Answers to RAVS Reviewer's Questions: 9
 You will also receive instructions for a simple two-step process to place your company name and safety person's name throughout this word document to conform it to your company. Please review, and feel free to alter or add to it as you wish with any specific company information or safety policies that you may already have.
The first two pages of the document are guidelines for conforming this safety manual section, an index for completing the RAVS® questionnaire (with all page references), and uploading the section.
If you experience any difficulty filling out the questionnaire, or have any questions in general about these documents, call 314-570-0072, or e-mail me at vsunshine1@gmail.com.
An excerpt from ISNetworld® RAVS®* Safety plan erial Lifts Program
     … Maintain proper distance from electrical power lines
Do not operate the equipment if: 
wind gusts exceed 30 mph, or if there is or could be an electrical storm.
Verify that the area under and around the work site is free of passers-by.
Check out overhead clearances, building design, fixtures and set-up.
Traffic Safety and Cone Placement 
Planning for traffic control is necessary on a case by case basis. Work that takes place either on or near the roadway creates a potentially hazardous situation, which shall require the use of  traffic controls. It is the responsibility of the person in charge or their designee to establish and maintain safe and efficient controls.
All necessary traffic control devices shall be installed before work begins and must be maintained during the entire work period.
Traffic control devices (i.e. barricades, cones etc.) provide drivers with sufficient advanced warning, and provide proper protection for the motorists and our employees   In addition, they advise motorists of proper travel path.
When parked, a cone shall be placed at the rear of the vehicle when the truck will be backed up or out of spot, at the front of the vehicle when the truck will be driven forward.
Special Hazards
DANGER – No equipment, insulated or not, provides any electrical protection to the occupant of the platform if there is "phase to phase" or "phase to ground" contact. Such contact will cause serious injury or death.  For lines rated 50 kV. or below, minimum clearance between the lines and any part of the equipment or load shall be 10 feet. [6] ...