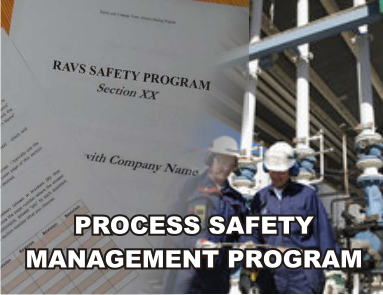 Process Safety Management - Contractor Responsibilities Program - ISNetworld RAVS Section - US
$ 34.95
Process Safety Management - Contractor Responsibility Program - ISNetworld RAVS Section - US
This Process Safety Management Program (ISNetworld® RAVS®* Section), in addition to being a complete and functioning written safety program (chapter), it also contains all the required text elements that are sought by the ISNetworld RAVS® (Review And Verification Service) reviewer. This plan has been previously submitted and has achieved a 100% approval rating for our clients.
All programs are guaranteed now and in the future to achieve 100% approval. 
There are NO maintenance or subscription fees. 
Simply notify us if any program falls out of compliance and we will correct it at NO CHARGE.
You are downloading a MicroSoft® Word document file to your computer that is completely editable:
Process Safety Management Program:
Approximate Word Count: 4,020
Approximate Number of Pages: 11
Page Reference Answers to RAVS Reviewer's Questions: 9
 You will also receive instructions for a simple two-step process to place your company name and safety person's name throughout this word document to conform it to your company. Please review, and feel free to alter or add to it as you wish with any specific company information or safety policies that you may already have.
The first two pages of the document are guidelines for conforming this safety manual section, an index for completing the RAVS® questionnaire (with all page references), and uploading the section.
If you experience any difficulty filling out the questionnaire, or have any questions in general about these documents, call 314-698-7915, or e-mail me at vsunshine1@gmail.com.
An excerpt from ISNetworld® RAVS®* Safety plan Process Safety Management Program
     …      Employee Participation
     Facility employers shall develop a written plan of action regarding the implementation of the employee participation required by this paragraph.  Facility employers  shall consult with employees and their representatives on the conduct and development of process hazards analyses and on the development of the other elements of process safety management in this standard. Facility employers  shall provide to employees and their representatives access to process hazard analyses and to all other information required to be developed under this standard.
      Process Safety Information
     In accordance with the schedule set forth, the facility employer  shall complete a compilation of written process safety information before conducting any process hazard analysis required by the standard. The compilation of written process safety information is to enable Replace with Company Name and the employees involved in operating the process to identify and understand the hazards posed by those processes involving highly hazardous chemicals. This process safety information shall include information pertaining to the hazards of the highly hazardous chemicals used or produced by the process, information pertaining to the technology of the process, and information pertaining to the equipment in the process.
      Information Pertaining to the Hazards of the Highly Hazardous Chemicals in the Process
     This information shall consist of at least the following:
      (i) Toxicity information;
      (ii) Permissible exposure limits;
      (iii) Physical data;
      (iv) Reactivity data:
      (v) Corrosivity data;
      (vi) Thermal and chemical stability data;
      (vii) Hazardous effects of inadvertent mixing of different materials that could          foreseeably occur.
 Note: Material Safety Data Sheets meeting the requirements of 29 CFR 1910.1200(g) may be used to comply with this requirement to the extent they contain the information required by this subparagraph.
      Information Pertaining to the Technology of the Process
     Information concerning the technology of the process shall include at least the following: A block flow diagram or simplified process flow diagram; (B) Process chemistry; (C) Maximum intended inventory; (D) Safe upper and lower limits for such items as temperatures, pressures, flows or compositions; and, (E) An evaluation of the consequences of deviations, including those affecting the safety and health of employees.  Where the original technical information no longer exists, such information may be developed in conjunction with the process hazard analysis in sufficient detail to support the analysis. ....