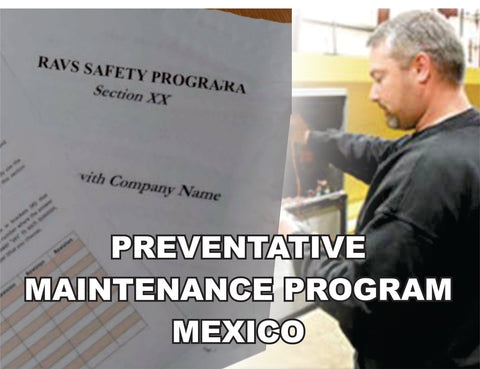 Preventative Maintenance Program - ISNetworld RAVS Section - US - Mexico
$ 24.95
Preventative Maintenance Program - ISNetworld RAVS Section - US - Mexico
This Preventative Maintenance Program - Mexico (ISNetworld® RAVS®* Section), in addition to being a complete and functioning written safety program (chapter), it also contains all the required text elements that are sought by the ISNetworld RAVS® (Review And Verification Service) reviewer. This plan has been previously submitted and has achieved a 100% approval rating for our clients.

All programs are guaranteed now and in the future to achieve 100% approval. 
There are NO maintenance or subscription fees. 
Simply notify us if any program falls out of compliance and we will correct it at NO CHARGE.
 You are downloading a MicroSoft® Word document file to your computer that is completely editable:
Preventative Maintenance Program:
Approximate Word Count: 2,110
Approximate Number of Pages: 6
Page Reference Answers to RAVS Reviewer's Questions: 4
You will also receive instructions for a simple two-step process to place your company name and safety person's name throughout this word document to conform it to your company. Please review, and feel free to alter or add to it as you wish with any specific company information or safety policies that you may already have.
The first two pages of the document are guidelines for conforming this safety manual section, an index for completing the RAVS® questionnaire (with all page references), and uploading the section.
If you experience any difficulty filling out the questionnaire, or have any questions in general about these documents, call 314-570-0072, or e-mail me at vsunshine1@gmail.com.
An excerpt from ISNetworld® RAVS®* Safety plan Preventative Maintenance Program
The emphasis of Replace with Company Name System's maintenance program is preventive rather than reactive maintenance. A strong preventive maintenance program effectively reduces overall maintenance costs by decreasing the number of road calls and the high cost of unpredictable repairs caused by reactive maintenance. Replace with Company Name System uses a graduated preventative maintenance program (PM) that is based on the manufacturer's recommendations and modified based on our experience and the local conditions we deal with. [2]

Preventive maintenance performed on machinery or equipment is documented and retained for the life of the machinery or equipment. [3] Solid PM practices maximize useful life, are cost efficient over the life of the vehicle/ equipment, and ensures that our equipment remain in safe operating condition.

Replace with Company Name has an aggressive preventive maintenance program that schedules inspections based on a variety of categories. The PM schedule established is based upon machinery usage and type. The schedule is progressive. Each successive PM includes a higher level of maintenance inspection activity. Vehicles are inspected based on mileage and time. In addition, each vehicle receives an annual comprehensive inspection.