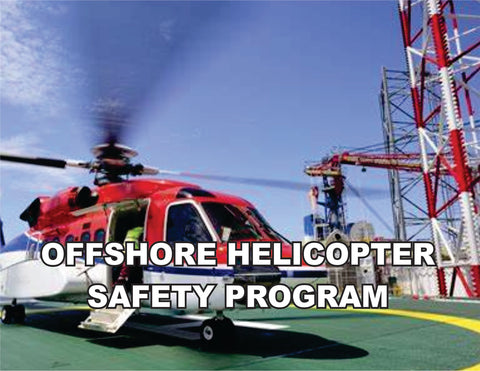 Offshore Helicopter Safety Program - ISNetworld RAVS Section - US
$ 14.95
Offshore Helicopter Safety Program - ISNetworld RAVS Section - US
This Offshore Helicopter Safety Program (ISNetworld® RAVS®* Section), in addition to being a complete and functioning written safety program (chapter), it also contains all the required text elements that are sought by the ISNetworld RAVS® (Review And Verification Service) reviewer. This plan has been previously submitted and has achieved a 100% approval rating for our clients.
All programs are guaranteed now and in the future to achieve 100% approval. 
There are NO maintenance or subscription fees. 
Simply notify us if any program falls out of compliance and we will correct it at NO CHARGE.
You are downloading a Microsoft® Word document file to your computer that is completely editable:
Offshore Helicopter Safety Program:
Approximate Word Count: 850
Approximate Number of Pages: 4
Page Reference Answers to RAVS Reviewer's Questions: 5
 You will also receive instructions for a simple two-step process to place your company name and safety person's name throughout this word document to conform it to your company. Please review, and feel free to alter or add to it as you wish with any specific company information or safety policies that you may already have.
The first two pages of the document are guidelines for conforming this safety manual section, an index for completing the RAVS® questionnaire (with all page references), and uploading the section.
If you experience any difficulty filling out the questionnaire, or have any questions in general about these documents, call 314-570-0072, or e-mail me at vsunshine1@gmail.com.
An excerpt from ISNetworld® RAVS®* Safety plan Offshore Helicopter Safety Program
General Policy
 Pilots are responsible for the safety of aircraft and are in charge of the aircraft and passengers at all times. Passenger safety procedures and precautions are as follows:
Wait at the designated staging area.
Follow ground crew, flight crew, and pilot instructions at all times.
Approach within full view of the pilot.
Store baggage in baggage compartments and other approved areas.  Baggage is not allowed in
the passenger cabin of helicopters.
Smoking is not permitted on a helideck or in the vicinity of helicopter operations.  [4] 
Report any apparent unusual internal or external conditions to the pilot (e.g., oil or grease leaks,
doors that fail to lock, loose covers or straps, etc.).
Fasten seat belts when boarding aircraft. Leave your seat belt fastened during take-off, in flight,
and during landing. Do not change seats while in flight. Do not unbuckle seat belts, take off
lifejackets, or remove ear protection until the pilot signals that it is clear to do so.
Observe the locations of emergency exits, fire extinguishers, and first-aid kits. Pay attention to
the pilot's emergency briefing.