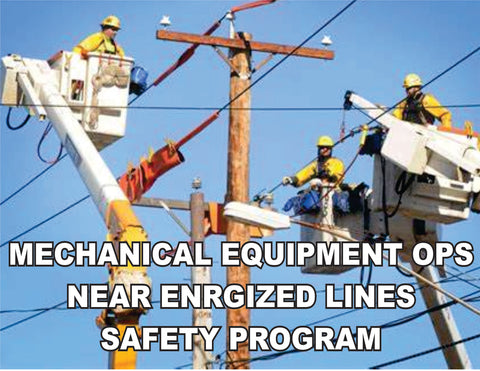 Mechanical Equipment Operations Near Energized Lines Program - ISNetworld RAVS Section - US
$ 24.95
Mechanical Equipment Operations Near Energized Lines Program - ISNetworld RAVS Section - US
This Mechanical Equipment Operations Near Energized Lines Program (ISNetworld® RAVS®* Section), in addition to being a complete and functioning written safety program (chapter), it also contains all the required text elements that are sought by the ISNetworld RAVS® (Review And Verification Service) reviewer. This plan has been previously submitted and has achieved a 100% approval rating for our clients.
All programs are guaranteed now and in the future to achieve 100% approval. 
There are NO maintenance or subscription fees. 
Simply notify us if any program falls out of compliance and we will correct it at NO CHARGE.
You are downloading a Microsoft® Word document file to your computer that is completely editable:
Mechanical Equipment Operations Near Energized Lines Program:
Approximate Word Count: 1,740
Approximate Number of Pages: 6
Page Reference Answers to RAVS Reviewer's Questions: 6
 You will also receive instructions for a simple two-step process to place your company name and safety person's name throughout this word document to conform it to your company. Please review, and feel free to alter or add to it as you wish with any specific company information or safety policies that you may already have.
The first two pages of the document are guidelines for conforming this safety manual section, an index for completing the RAVS® questionnaire (with all page references), and uploading the section.
If you experience any difficulty filling out the questionnaire, or have any questions in general about these documents, call 314-570-0072, or e-mail me at vsunshine1@gmail.com.
An excerpt from ISNetworld® RAVS®* Safety plan Mechanical Equipment Operations Near Energized Lines Program
OPERATION
Employers must comply with all manufacturers' procedures applicable to the operational functions of equipment, including its use with attachments, must be complied with.   If they are unavailable, they must develop and comply with their own procedures. Procedures for operations must be developed by a qualified person; procedures for capacity must be developed and signed by a registered professional engineer. These procedures must be readily available to the operator in the cab. If not (e.g., electric failure), operations must cease. The operator shall have access to procedures applicable to the operation of the equipment. Procedures include rated capacities (load charts), recommended operating speeds, special hazard warnings, instructions and operator's manual.    
 Operators are not allowed to be distracted by other activities, such as use of cell phones. They cannot leave the controls with a suspended load. Out of service equipment must be tagged-out and not operated until tags are removed by an authorized person.
 The operator must verify that the controls are working and that all personnel are in the clear before starting the engine. A competent person must determine if equipment must be secured when a local storm warning is issued. If any repairs or adjustments are made, notifications must be made in writing. Safety devices and operational aids are not a substitute for professional judgment by the operator.
 A competent person must verify that rope is being reseated properly on the drum, if slack rope requires it. A competent person must also adjust the equipment or operations for wind, ice and snow conditions.