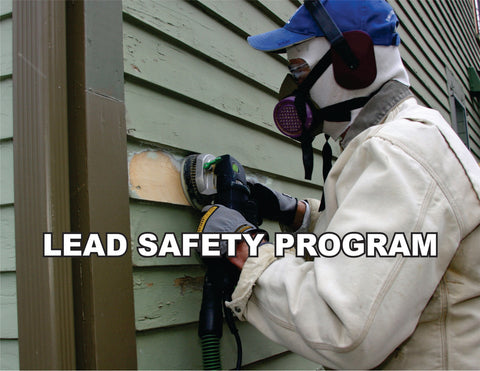 Lead Safety Program - ISNetworld RAVS Section - US
$ 29.95
Lead Safety Program - ISNetworld RAVS Section - US
This Lead Safety Program (ISNetworld® RAVS®* Section), in addition to being a complete and functioning written safety program (chapter), it also contains all the required text elements that are sought by the ISNetworld RAVS® (Review And Verification Service) reviewer. This plan has been previously submitted and has achieved a 100% approval rating for our clients.
 All programs are guaranteed now and in the future to achieve 100% approval. 
There are NO maintenance or subscription fees. 
Simply notify us if any program falls out of compliance and we will correct it at NO CHARGE.
You are downloading a MicroSoft® Word document file to your computer that is completely editable:
 Lead Safety Program:
Approximate Word Count: 6,230
Approximate Number of Pages: 13
Page Reference Answers to RAVS Reviewer's Questions: 5
  You will also receive instructions for a simple two-step process to place your company name and safety person's name throughout this word document to conform it to your company. Please review, and feel free to alter or add to it as you wish with any specific company information or safety policies that you may already have.
The first two pages of the document are guidelines for conforming this safety manual section, an index for completing the RAVS® questionnaire (with all page references), and uploading the section.
If you experience any difficulty filling out the questionnaire, or have any questions in general about these documents, call 314-570-0072, or e-mail me at vsunshine1@gmail.com.
An excerpt from ISNetworld® RAVS®* Safety plan Lead Safety Program
Lead  Management
      Most lead over-exposures in the construction industry are found in the trades such as plumbing, welding and painting. In building construction, lead is frequently used for roofs, cornices, tank linings and electrical conduits. In plumbing, an alloy of lead/tin had been used extensively for soldering tin-plate and pipe joints. Use of lead solders in plumbing systems is now prohibited by law. Lead-based paint had also been used extensively for residential and commercial applications but has been banned for residential use by the Consumer Product Safety Commission. Lead-based paint may still be used on metal structures (bridges, railways, beams, etc.) to prevent corrosion, although substitute coatings are now available.
     Significant lead exposures can arise during stripping or demolition of structures containing lead-based paint. The types of work with the greatest potential for lead exposure include iron work, demolition, painting, plumbing, electrical, lead-based paint abatement, heating/air conditioning and carpentry/renovation activities.
     This chapter covers Replace with Company Name's policy regarding procedures and operations involving the use, maintenance, and disturbance of lead-containing materials. This document was developed to assure that lead and lead-containing materials are properly maintained and handled. The lead safety program shall be administered by the RSO, Replace with Safety Person's Name.  The procedures outlined in this policy will promote the safe management of lead and lead-containing materials.  They will also help assure compliance with regulations applicable to lead.
Scope
     Occupationally, these exposures may include:
Demolition or salvage of structures where lead-containing materials may be present.
Removal or encapsulation of materials containing lead (e.g. lead paint abatement).
New construction, alteration, repair or renovation of items containing lead.
Installation of materials containing lead.
Lead contamination or emergency cleanup.
Maintenance operations involving the disturbance of lead or lead-containing materials.
Firing range operations.