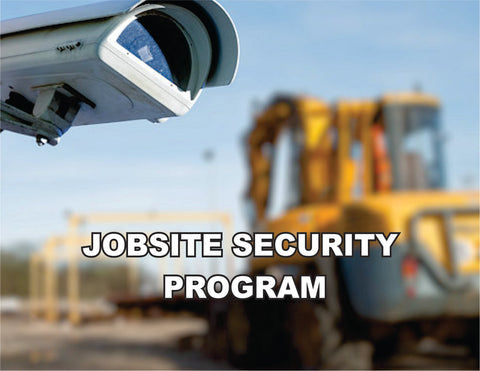 Jobsite Security Program - ISNetworld RAVS Section - US
$ 29.95
Jobsite Security Program - ISNetworld RAVS Section - US
This Jobsite Security Program (ISNetworld® RAVS®* Section), in addition to being a complete and functioning written safety program (chapter), it also contains all the required text elements that are sought by the ISNetworld RAVS® (Review And Verification Service) reviewer. This plan has been previously submitted and has achieved a 100% approval rating for our clients.
All programs are guaranteed now and, in the future, to achieve 100% approval. 
There are NO maintenance or subscription fees. 
Simply notify us if any program falls out of compliance and we will correct it at NO CHARGE.
You are downloading a MicroSoft® Word document file to your computer that is completely editable:
Jobsite Security Program:
Approximate Word Count: 2,740
Approximate Number of Pages: 8
Page Reference Answers to RAVS Reviewer's Questions: 6
You will also receive instructions for a simple two-step process to place your company name and safety person's name throughout this word document to conform it to your company. Please review, and feel free to alter or add to it as you wish with any specific company information or safety policies that you may already have.
The first two pages of the document are guidelines for conforming this safety manual section, an index for completing the RAVS® questionnaire (with all page references), and uploading the section.
If you experience any difficulty filling out the questionnaire, or have any questions in general about these documents, call 314-570-0072, or e-mail me at vsunshine1@gmail.com.
An excerpt from ISNetworld® RAVS®* safety plan Jobsite Security Program
Providing and maintaining appropriate levels of site security benefits both the owner and Replace with Company Name, as it will protect our sites, reduce the potential for theft and restrict entry to only authorized personnel.  Replace with Company Name is committed to the prevention and/or reduction of security breaches/incidents.  [1]  It is understood that security requirements can vary significantly from one of our projects to another. For example, different security provisions will be required for a single high-rise building compared to an infrastructure project, perhaps stretching many miles. Additionally, security will be influenced by the local, legal, social and geographical exposures of the location. 
 SECURITY ASSESSMENT PROCESS
Security risks vary according to the construction type and site location and can originate not only from the external population but also from the project's own workforce. While there may be general security methods that will be used across projects, security should also be addressed at each job site during pre-job meetings/toolbox talks/hazard assessments (JSAs). Affected employees should be provided an opportunity to participate in risk assessments.  [2]  The following are security assessment suggestions; however, we must recognize that each site will be unique, requiring specific and thoughtful consideration and planning.
Initial site security assessment is carried out by the owner or site management and should consider the following major factors: