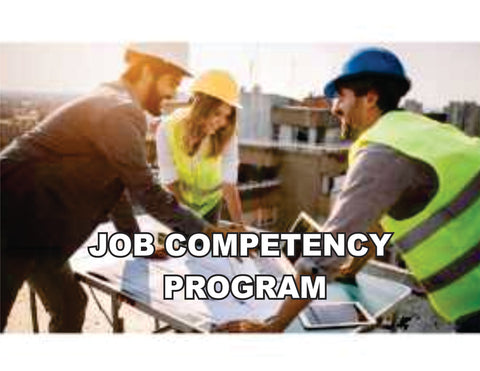 Job Competency Program - ISNetworld RAVS Section - US
$ 24.95
Job Competency Program - ISNetworld RAVS Section - US
This Job Competency Program (ISNetworld® RAVS®* Section), in addition to being a complete and functioning written safety program (chapter), it also contains all the required text elements that are sought by the ISNetworld RAVS® (Review And Verification Service) reviewer. This plan has been previously submitted and has achieved a 100% approval rating for our clients.
All programs are guaranteed now and, in the future, to achieve 100% approval. 
There are NO maintenance or subscription fees. 
Simply notify us if any program falls out of compliance and we will correct it at NO CHARGE.
You are downloading a MicroSoft® Word document file to your computer that is completely editable:
Job Competency Program:
Approximate Word Count: 1,430
Approximate Number of Pages: 5
Page Reference Answers to RAVS Reviewer's Questions: 5
You will also receive instructions for a simple two-step process to place your company name and safety person's name throughout this word document to conform it to your company. Please review, and feel free to alter or add to it as you wish with any specific company information or safety policies that you may already have.
The first two pages of the document are guidelines for conforming this safety manual section, an index for completing the RAVS® questionnaire (with all page references), and uploading the section.
If you experience any difficulty filling out the questionnaire, or have any questions in general about these documents, call 314-570-0072, or e-mail me at vsunshine1@gmail.com.
An excerpt from ISNetworld® RAVS®* safety plan Job Competency Program
GENERAL
Competency programs are meant to help employees understand what they need to know and to communicate clear job expectations. They're also intended to provide a framework for performance assessment, management, and improvement.  However, many competency programs struggle to stay on track. They start with the best of intentions but veer off course as they evolve. Organizations begin with a few strong "core competencies" that soon devolve into a list of vaguely defined items that can't be measured.  Replace with Company Name has a competency programs in place that engages our employees and fuels financial growth.
 An effective competency programs does four basic things well:
Define the right competencies
Focus on what is teachable
Weight "will do" more heavily than "can do"
Ensure consistency
 Define the right competencies.
Avoid setting up a competency program based on what they think is important for a particular role. For these programs to be effective, competencies must be put to the test.
For example, if you have a hunch that setting clear expectations should be a core competency for managers, then you first should determine if meeting this competency actually delivers improved performance. One way to do this is by surveying as many employees as possible and asking if their manager sets clear expectations. Then the organization should compare the survey data with real performance metrics such as customer engagement, retention, or productivity numbers.