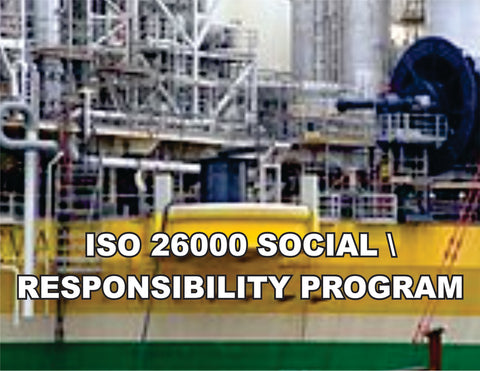 ISO 26000 Social Responsibility Program - ISNetworld RAVS Section - US
$ 19.95
ISO 26000 Social Responsibility Program- ISNetworld RAVS Section - US
This ISO 26000 Social Responsibility Program (ISNetworld® RAVS®* Section), in addition to being a complete and functioning written safety program (chapter), it also contains all the required text elements that are sought by the ISNetworld RAVS® (Review And Verification Service) reviewer. This plan has been previously submitted and has achieved a 100% approval rating for our clients.
All programs are guaranteed now and, in the future, to achieve 100% approval. 
There are NO maintenance or subscription fees. 
Simply notify us if any program falls out of compliance and we will correct it at NO CHARGE.
You are downloading a MicroSoft® Word document file to your computer that is completely editable:
ISO 26000 Social Responsibility Program:
Approximate Word Count: 1,440
Approximate Number of Pages: 5
Page Reference Answers to RAVS Reviewer's Questions: 7
 You will also receive instructions for a simple two-step process to place your company name and safety person's name throughout this word document to conform it to your company. Please review, and feel free to alter or add to it as you wish with any specific company information or safety policies that you may already have.
The first two pages of the document are guidelines for conforming this safety manual section, an index for completing the RAVS® questionnaire (with all page references), and uploading the section.
If you experience any difficulty filling out the questionnaire, or have any questions in general about these documents, call 314-570-0072, or e-mail me at vsunshine1@gmail.com.
An excerpt from ISNetworld® RAVS®* Safety plan ISO 26000 Social Responsibility Program
Introduction/ Background
The voluntary International Standard ISO 26000:2010 Guidance for social responsibility aims to be a first step in helping all types of organizations, in both the public and private sectors, to achieve the benefits of operating in a socially responsible manner
As the concepts of sustainability and social responsibility become mainstream elements of the corporate environment, organizations of various types around the world increasingly realize the need to adapt a pro-active approach in regards to their CSR practices. This is especially valid in light of the increased scrutiny of organizations by various stakeholders, and the scientific realization of interdependence between the natural environment and human infrastructure and actions.
Scope and focus of the ISO 26000:2010 Standard
The ISO 26000:2010 addresses the challenges related to social responsibility, defined as the responsibility of an organization for the impact of its decisions and activities on society and the environment through transparent and ethical behavior. The Standard offers a framework of seven core subjects and issues. These are:
Organizational governance
Human rights
Labor practices
The environment
Fair operating practices
Consumer issues
Community involvement and development