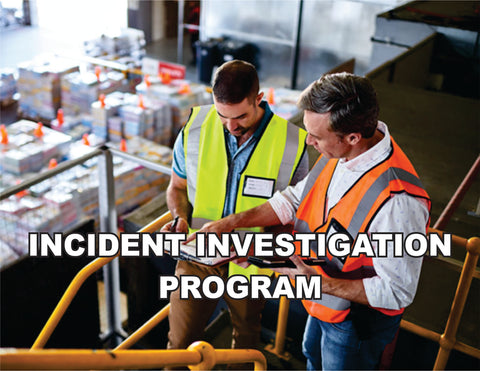 Incident Investigation Program - ISNetworld RAVS Section - US
$ 29.95
Incident Investigation Program - ISNetworld RAVS Section - US
This Incident Investigation Safety Program (ISNetworld® RAVS®* Section), in addition to being a complete and functioning written safety program (chapter), it also contains all the required text elements that are sought by the ISNetworld RAVS® (Review And Verification Service) reviewer. This plan has been previously submitted and has achieved a 100% approval rating for our clients.
All programs are guaranteed now and, in the future, to achieve 100% approval. 
There are NO maintenance or subscription fees. 
Simply notify us if any program falls out of compliance and we will correct it at NO CHARGE.
You are downloading a MicroSoft® Word document file to your computer that is completely editable:
Incident Investigation Safety Program:
Approximate Word Count: 2,050
Approximate Number of Pages: 11
Page Reference Answers to RAVS Reviewer's Questions: 7
 You will also receive instructions for a simple two-step process to place your company name and safety person's name throughout this word document to conform it to your company. Please review, and feel free to alter or add to it as you wish with any specific company information or safety policies that you may already have.
The first two pages of the document are guidelines for conforming this safety manual section, an index for completing the RAVS® questionnaire (with all page references), and uploading the section.
If you experience any difficulty filling out the questionnaire, or have any questions in general about these documents, call 314-570-0072, or e-mail me at vsunshine1@gmail.com.
An excerpt from ISNetworld® RAVS®* Safety plan Incident Investigation Safety Program
Policy
 Investigation of any accident is an important management tool for controlling accidents and their related costs. If something is not learned from an accident, it is a total loss. Something causes accidents. The reasons or basic root causes must be determined. The information that is learned can be used to improve the operation involved and make it more safe and efficient. It is, therefore, a policy of Replace with Company Name that the foreman (or RSO, Replace with Safety Person's Name) investigates all injuries requiring a visit to a physician, clinic or hospital and any property damage incidents involving $500 or more or near misses that had the potential to result in an accident of this magnitude.
 However, even if no report is submitted, all incidents, including "near misses," should be questioned using the same investigative techniques in order that corrective action may be taken to prevent a similar incident from occurring.  While all incidents should be investigated, the extent of such investigation shall reflect the seriousness of the incident utilizing a root cause analysis process or other similar method.  [1]  <1>
 Accidents are usually the result of conditions or actions that the supervisors and employees are often in the best position to control. An accident is simply an unplanned event that interrupts operations and results in loss of time, property damage or bodily injury. They usually arise from one of four areas: equipment, material, people or environment.
 The Purpose of Accident Investigations
 Millions of words have been written explaining the importance and purpose of accident investigations, but they can all be summarized in one word - prevention. There are many benefits from accident investigations, but one purpose - prevention.