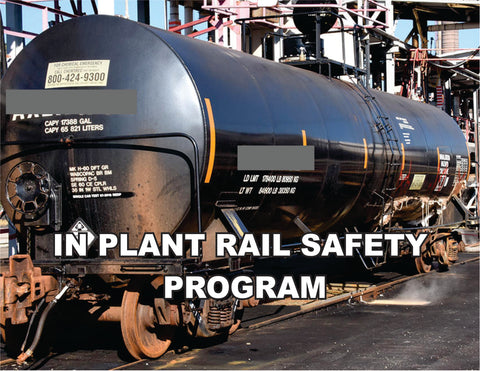 In Plant Rail Safety Program - ISNetworld RAVS Section - US
$ 24.95
In Plant Rail Safety Program - ISNetworld RAVS Section - US
This In Plant Rail Safety Program (ISNetworld® RAVS®* Section), in addition to being a complete and functioning written safety program (chapter), it also contains all the required text elements that are sought by the ISNetworld RAVS® (Review And Verification Service) reviewer. This plan has been previously submitted and has achieved a 100% approval rating for our clients.
All programs are guaranteed now and, in the future, to achieve 100% approval. 
There are NO maintenance or subscription fees. 
Simply notify us if any program falls out of compliance and we will correct it at NO CHARGE.
You are downloading a MicroSoft® Word document file to your computer that is completely editable:
In Plant Rail Safety Program:
Approximate Word Count: 980
Approximate Number of Pages: 4
Page Reference Answers to RAVS Reviewer's Questions: 8
 You will also receive instructions for a simple two-step process to place your company name and safety person's name throughout this word document to conform it to your company. Please review, and feel free to alter or add to it as you wish with any specific company information or safety policies that you may already have.
The first two pages of the document are guidelines for conforming this safety manual section, an index for completing the RAVS® questionnaire (with all page references), and uploading the section.
If you experience any difficulty filling out the questionnaire, or have any questions in general about these documents, call 314-570-0072, or e-mail me at vsunshine1@gmail.com.
An excerpt from ISNetworld® RAVS®* Safety plan In Plant Rail Safety Program
   ... 
Head-End Protection — Simply put, this refers to positioning a worker at the front end of the train in order to watch for pedestrians or other equipment that may be in the direction of travel. This can be the locomotive operator if he/she has a clear view of the rails ahead. It may also be a brakeman or switchman who is in radio contact with the locomotive operator. If the locomotive is operated by a radio-controlled remote, then the remote operator must be at the front of the train, watching in the direction of travel.
Work On or Near Tracks — Prior to performing work within six (6) feet of any railroad track, permission must be obtained from railroad Supervisor/Designated person to take the track out of service [8]When any type of maintenance or repair is being performed on or near railroad tracks, some form of positive track protection should be utilized. This could be in the form of a derailer placed in front of the work area or a switch that has been diverted and locked out.  In addition, a warning device such as a blue flag or light should be placed in front of the work area.  Never attempt to crawl under rail equipment or climb over moving rail equipment or attempt to cross in front of moving equipment.   [6]   The positive protection and warning devices may need to be placed on both sides of the work area if rail equipment can travel both ways. 
Work Between the Rails — Many of the injuries and fatalities that have occurred in plant railyards have occurred when employees positioned themselves between the rails. Never position any part of the body in a potential pinch point. Rail equipment can move in either direction at anytime [7]When coupling or uncoupling, it is safer to work with one foot outside the rails whenever possible. Also, workers should avoid kicking couplers when they stick, since this activity increases the likelihood of falling between the rails.. ....