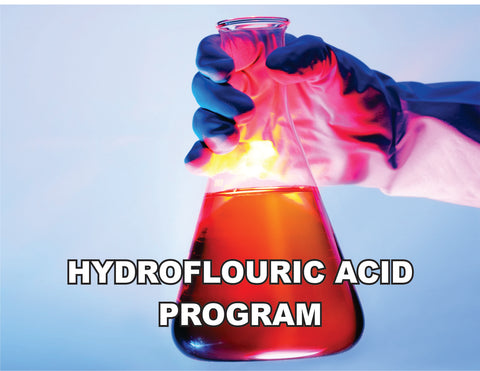 Hydrofluoric Acid (HF) Program - ISNetworld RAVS Section - US
$ 19.95
Hydrofluoric Acid (HF) Program - ISNetworld RAVS Section - US
This Hydrofluoric Acid (HF) Program (ISNetworld® RAVS®* Section), in addition to being a complete and functioning written safety program (chapter), it also contains all the required text elements that are sought by the ISNetworld RAVS® (Review And Verification Service) reviewer. This plan has been previously submitted and has achieved a 100% approval rating for our clients.
All programs are guaranteed now and in the future to achieve 100% approval. 
There are NO maintenance or subscription fees. 
Simply notify us if any program falls out of compliance and we will correct it at NO CHARGE.
 You are downloading a MicroSoft® Word document file to your computer that is completely editable: 
Hydrofluoric Acid (HF) Program:
Approximate Word Count: 1,160
Approximate Number of Pages: 4
Page Reference Answers to RAVS Reviewer's Questions: 7
  You will also receive instructions for a simple two-step process to place your company name and safety person's name throughout this word document to conform it to your company. Please review, and feel free to alter or add to it as you wish with any specific company information or safety policies that you may already have.
The first two pages of the document are guidelines for conforming this safety manual section, an index for completing the RAVS® questionnaire (with all page references), and uploading the section.
If you experience any difficulty filling out the questionnaire, or have any questions in general about these documents, call 314-570-0072, or e-mail me at vsunshine1@gmail.com.
An excerpt from ISNetworld® RAVS®* Safety plan Hydrofluoric Acid (HF) Program
Pure hydrogen fluoride is a clear, colorless, corrosive liquid that has roughly the same weight as water (comparing equal volumes). It boils at 67 degrees Fahrenheit and, depending on the release conditions, can form a vapor cloud if released to the atmosphere. It has a sharp, penetrating odor that human beings can detect at very low concentrations (0.04-0.13 ppm(1), in the air. It is completely soluble in water, in which it forms HF, which, in concentrated solutions, vaporizes in air to form a noticeable cloud.
 Hydrofluoric acid (HF) is a highly corrosive liquid and is a contact poison.   It should be handled with extreme care (i.e., beyond what is generally required to handle other mineral acids). Owing to its low dissociation constant, HF as a neutral lipid-soluble molecule penetrates tissue more rapidly than typical mineral acids.   Because of the ability of hydrofluoric acid to penetrate tissue, poisoning can occur readily through exposure of skin or eyes, or when inhaled or swallowed. Symptoms of exposure to hydrofluoric acid may not be immediately evident.   HF interferes with nerve function, meaning that burns may not initially be painful.   Accidental exposures can go unnoticed, delaying treatment and increasing the extent and seriousness of the injury.
 HF is a calcium seeker.   A person can't sense when it comes in contact with the skin, but it dissolves the calcium in the bone.   HF burns are not evident until a day later.   If not stored, handled and disposed of properly, HF can pose a serious threat to the health and safety of personnel, emergency responders and waste handlers.   Hence, it is important to thoroughly understand the properties of HF and follow all safety protocols to properly store and handle HF.