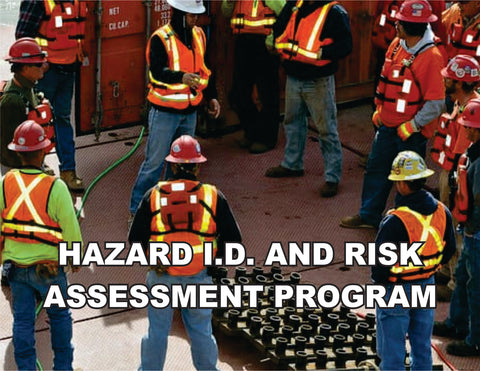 Hazard I.D. & Risk Assessment Program - ISNetworld RAVS Section - US
$ 24.95
Hazard Identification and Risk Assessment ISNetworld RAVS Section - US
This Hazard I.D. & Risk Assessment Program (ISNetworld® RAVS®* Section), in addition to being a complete and functioning written safety program (chapter), it also contains all the required text elements that are sought by the ISNetworld RAVS® (Review And Verification Service) reviewer. This plan has been previously submitted and has achieved a 100% approval rating for our clients.
All programs are guaranteed now and in the future to achieve 100% approval. 
There are NO maintenance or subscription fees. 
Simply notify us if any program falls out of compliance and we will correct it at NO CHARGE.
You are downloading a MicroSoft® Word document file to your computer that is completely editable:
Hazard Identification and Risk Assessment Program:
Approximate Word Count: 1,750
Approximate Number of Pages: 5
Page Reference Answers to RAVS Reviewer's Questions: 7
 You will also receive instructions for a simple two-step process to place your company name and safety person's name throughout this word document to conform it to your company. Please review, and feel free to alter or add to it as you wish with any specific company information or safety policies that you may already have.
The first two pages of the document are guidelines for conforming this safety manual section, an index for completing the RAVS® questionnaire (with all page references), and uploading the section.
If you experience any difficulty filling out the questionnaire, or have any questions in general about these documents, call 314-570-0072, or e-mail me at vsunshine1@gmail.com.
An excerpt from ISNetworld® RAVS®* Safety plan Hazard Identification and Risk Assessment Program
     … Replace with Company Name, in consultation with its employees and subcontractors, [2]   through JSA's will identify all reasonably foreseeable hazards at the jobsite that may cause a major accident; and the kinds of major accidents that may occur at the jobsite, the likelihood of a major accident occurring and the likely consequences of a major accident.  [1]  
The importance of getting the hazard identification right
Major accidents by their nature are rare events, which may be beyond the experience of many employers. These accidents tend to be low frequency, high consequence events, however, the circumstances or conditions that could lead to a major accident may already be present, and the risks of such incidents should be proactively identified and managed.  Therefore, the hazard identification process should be used for routine and non-routine activities as well as new processes, changes in operation, products or services as applicable.  [3]  
Features of HAZID
Replace with Company Name will expect:
a clear method statement or description of the HAZID process, defining when it was conducted, how it was planned and prepared, who was involved and what tools and resources were employed;
that the HAZID process was based on a comprehensive and accurate description of the facility, including all necessary diagrams, process information, existing conditions and modifications; and
that the overall HAZID process did not rely solely on data that was historical or reactive and that employers ensured that predictive methods were also used.
The HAZID process must identify hazards that could cause a potential major accident for the full range of operational modes, including normal operations, start-up, shutdown, and also potential upset, emergency or abnormal conditions.  Employers should also reassess their HAZID whenever a significant change in operations has occurred or a new substance has been introduced.