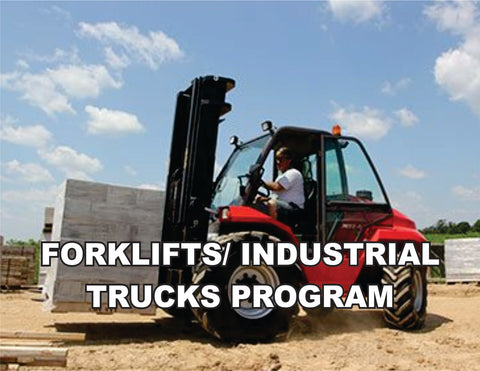 Forklifts/ Industrial Trucks Program - ISNetworld RAVS Section - US
$ 24.95
Forklifts/ Industrial Trucks Program - ISNetworld RAVS Section- US
This Forklifts/ Industrial Trucks Program (ISNetworld® RAVS®* Section), in addition to being a complete and functioning written safety program (chapter), it also contains all the required text elements that are sought by the ISNetworld RAVS® (Review And Verification Service) reviewer. This plan has been previously submitted and has achieved a 100% approval rating for our clients.
All programs are guaranteed now and in the future to achieve 100% approval. 
There are NO maintenance or subscription fees. 
Simply notify us if any program falls out of compliance and we will correct it at NO CHARGE.
You are downloading a MicroSoft® Word document file to your computer that is completely editable:
Forklifts/ Industrial Trucks Program
Approximate Word Count: 1,590
Approximate Number of Pages: 5
Page Reference Answers to RAVS Reviewer's Questions: 6
 You will also receive instructions for a simple two-step process to place your company name and safety person's name throughout this word document to conform it to your company. Please review, and feel free to alter or add to it as you wish with any specific company information or safety policies that you may already have.
The first two pages of the document are guidelines for conforming this safety manual section, an index for completing the RAVS® questionnaire (with all page references), and uploading the section.
If you experience any difficulty filling out the questionnaire, or have any questions in general about these documents, call 314-570-0072, or e-mail me at vsunshine1@gmail.com.
An excerpt from ISNetworld® RAVS®* Safety plan Forklifts/ Industrial Trucks Program
Mechanical Lifting
      Mechanical devices must be used for lifting and moving objects that are too heavy or bulky for safe manual handling by employees.  Employees who have not been trained must not operate power-driven mechanical devices to lift or move objects of any weight.  Heavy objects that require special handling or rigging must be moved only by riggers or under the guidance of employees specifically trained and certified to move heavy objects. 
 Inspections
      Each mechanical lifting or moving device, including forklifts must be thoroughly inspected by the operator daily.  Equipment shall be examined before being placed in service. Such examination shall be made at least daily. Where industrial trucks are used on a round-the-clock basis, they shall be examined after each shift. Defects when found shall be immediately reported and corrected.   [6]  Each lifting device must also be inspected before lifting a load near its rated capacity.  Defective equipment must be repaired before it is used.  The rated load capacity of lifting equipment must not be exceeded. 
      Material moving equipment must be driven forward going up a ramp and driven backward going down a ramp. 
      Traffic must not be allowed to pass under a raised load. 
      The floor-loading limit must be checked before mobile lifting equipment enters an area.  Passengers must not be carried on lifting equipment unless it is specifically equipped to carry passengers. 
 Load Path Safety