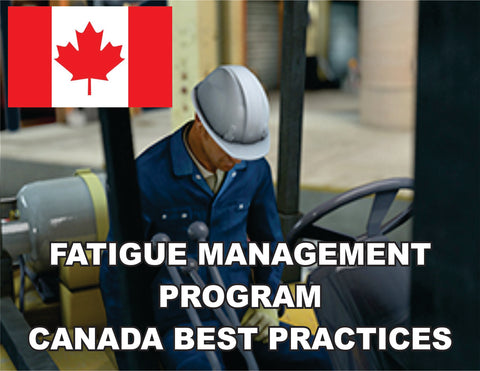 Fatigue Management Safety Program - ISNetworld RAVS Section - Canada - Best Practices
$ 29.95
Fatigue Management Program - ISNetworld RAVS Section - Canada Best Practices
This Fatigue Management Program (ISNetworld® RAVS®* Section), in addition to being a complete and functioning written safety program (chapter), it also contains all the required text elements that are sought by the ISNetworld RAVS® (Review And Verification Service) reviewer. This plan has been previously submitted and has achieved a 100% approval rating for our clients.
All programs are guaranteed now and in the future to achieve 100% approval. 
There are NO maintenance or subscription fees. 
Simply notify us if any program falls out of compliance and we will correct it at NO CHARGE.
You are downloading a MicroSoft® Word document file to your computer that is completely editable:
Fatigue Management Program:
Approximate Word Count: 3,150
Approximate Number of Pages: 10
Page Reference Answers to RAVS Reviewer's Questions: 5
 You will also receive instructions for a simple two-step process to place your company name and safety person's name throughout this word document to conform it to your company. Please review, and feel free to alter or add to it as you wish with any specific company information or safety policies that you may already have.
The first two pages of the document are guidelines for conforming this safety manual section, an index for completing the RAVS® questionnaire (with all page references), and uploading the section.
If you experience any difficulty filling out the questionnaire, or have any questions in general about these documents, call 314-698-7915, or e-mail me at vsunshine1@gmail.com.
An excerpt from ISNetworld® RAVS®* Safety plan Fatigue Management Program
Introduction
Fatigue is a physical condition that can result when an individual's physical or mental limits are reached. Fatigue can be associated with physical exertion, mental exertion or inadequate or disturbed sleep. Fatigue can also lead to long term health problems.
 Managing fatigue is one of the components of an overall approach to fitness for work. Replace with Company Name is committed to providing a safe working environment for all staff by eliminating conditions and work practices that would lead to illness, personal injury, equipment or other property damage.  All employees are required to take reasonable steps to ensure their own and others health and safety at work by being fit for work and working safely.
 Purpose & Objectives
This procedure aims to provide an overview of Replace with Company Name's process for controlling the occupational risks associated with fatigue.
 The objectives of this procedure are to ensure:
Employees understand the need to be fit for work.
The maintenance of a safe working environment and operations by minimizing hazards
      associated with fatigue.
Assistance through a range of preventative initiatives is offered including education and
      training strategies that help manage fatigue and related issues.
Informed decisions are made in relation to Replace with Company Name's Reasonable
      Working Hours Guidelines.
Ongoing risk assessment and hazard monitoring takes place.
Employees who are deemed consistently unfit for work as a result of fatigue are dealt with
      consistently and fairly in accordance with our values and this procedure.