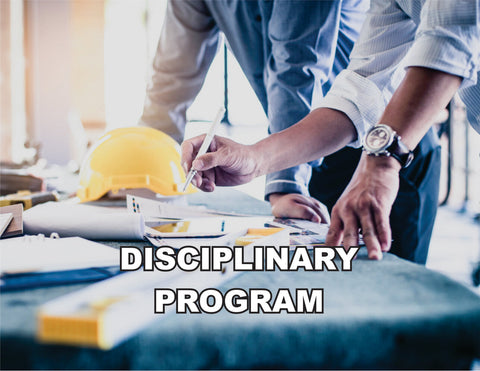 Disciplinary Program - ISNetworld RAVS Section - US
$ 24.95
Disciplinary Program - ISNetworld RAVS Section - US
This Disciplinary Program (ISNetworld® RAVS®* Section), in addition to being a complete and functioning written safety program (chapter), it also contains all the required text elements that are sought by the ISNetworld RAVS® (Review And Verification Service) reviewer. This plan has been previously submitted and has achieved a 100% approval rating for our clients. 
All programs are guaranteed now and in the future to achieve 100% approval. 
There are NO maintenance or subscription fees. 
Simply notify us if any program falls out of compliance and we will correct it at NO CHARGE. 
You are downloading a MicroSoft® Word document file to your computer that is completely editable: 
Disciplinary Program:
Approximate Word Count: 965
Approximate Number of Pages: 7
Page Reference Answers to RAVS Reviewer's Questions: 3
 You will also receive instructions for a simple two-step process to place your company name and safety person's name throughout this word document to conform it to your company. Please review, and feel free to alter or add to it as you wish with any specific company information or safety policies that you may already have.
The first two pages of the document are guidelines for conforming this safety manual section, an index for completing the RAVS® questionnaire (with all page references), and uploading the section.
If you experience any difficulty filling out the questionnaire, or have any questions in general about these documents, call 314-570-0072, or e-mail me at vsunshine1@gmail.com.
An excerpt from ISNetworld® RAVS®* Safety plan Disciplinary Program
 One of the best preventive measures to use to lower your accident rate is to always keep safety in the mind of the employee. It's not enough to tell your employees one time regarding a safety measure, rather an ongoing campaign of education and enforcement should exist as a natural part of your daily business- as natural as cleaning and maintaining equipment. Physical inspections of work areas are performed by company officials on a routine basis as an integral part of this program.

Disciplinary Program

The RSO, Replace with Safety Person's Name is responsible for enforcement of disciplinary program. Some examples of general safety infractions requiring a warning and can lead to termination are:
• Minor traffic violations while using Company vehicles
• Creating unsafe or unsanitary conditions or poor housekeeping habits
• Threatening an act of violence against another person while on company property
• Misrepresentation of facts
• Unauthorized use of Company property
• Excessive tardiness and late to work
• Disrespect and/or insubordination to authority - Other violations of Company Policy and rules
• Not following verbal or written safety procedures or guidelines, workplace rules,
• Failure to wear selected PPE, abuse of selected PPE, etc.
• Being under the influence of intoxicating liquor or drugs, including prescription drugs which might impair motor skills and judgment
• Horse play, scuffling, and other acts which tend to have an adverse influence on safety or well-being of other employees
• Harassing behavior that is intended to disturb or upset another employee ( normally repetitive)