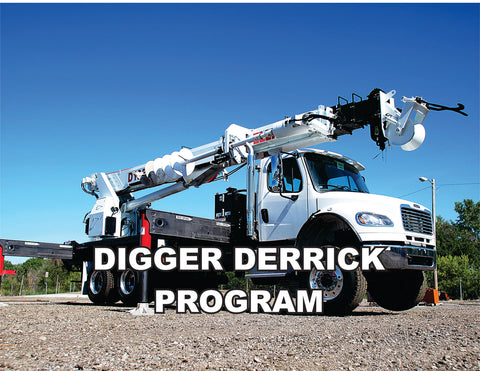 Digger Derrick Program - ISNetworld RAVS Section - US
$ 24.95
Digger Derrick Program - ISNetworld RAVS Section - US
This Digger Derrick Program (ISNetworld® RAVS®* Section), in addition to being a complete and functioning written safety program (chapter), it also contains all the required text elements that are sought by the ISNetworld RAVS® (Review And Verification Service) reviewer. This plan has been previously submitted and has achieved a 100% approval rating for our clients. 
All programs are guaranteed now and in the future to achieve 100% approval. 
There are NO maintenance or subscription fees. 
Simply notify us if any program falls out of compliance and we will correct it at NO CHARGE. 
You are downloading a MicroSoft® Word document file to your computer that is completely editable: 
Digger Derrick Program:
Approximate Word Count: 1,855
Approximate Number of Pages: 5
Page Reference Answers to RAVS Reviewer's Questions: 6 
 You will also receive instructions for a simple two-step process to place your company name and safety person's name throughout this word document to conform it to your company. Please review, and feel free to alter or add to it as you wish with any specific company information or safety policies that you may already have.
The first two pages of the document are guidelines for conforming this safety manual section, an index for completing the RAVS® questionnaire (with all page references), and uploading the section.
If you experience any difficulty filling out the questionnaire, or have any questions in general about these documents, call 314-570-0072, or e-mail me at vsunshine1@gmail.com.
An excerpt from ISNetworld® RAVS®* Safety plan Digger Derrick Program
    Overview
Digger derricks are essential machines used in various industries, including construction, telecommunications, and utilities. These machines play a crucial role in lifting heavy loads and digging holes for utility poles and other structures. However, operating digger derricks can be dangerous, and safety measures must be put in place to protect workers and prevent accidents. To ensure the safety of our workers and the public, Replace with Company Name has implemented this safety program.
This safety program covers various aspects of the machine's operation, maintenance, and use. This program includes training requirements for operators and other personnel involved in the machine's operation. This program also covers topics such as machine operation, inspection, maintenance, and repair, as well as safety procedures and protocols. Workers will receive training on the use of personal protective equipment (PPE) and safe work practices, such as maintaining a safe distance from the machine and keeping the work area free of obstacles.
Training [1]

A comprehensive safety program for digger derrick operator qualifications and training before use can help ensure that workers are properly trained and qualified to operate these machines safely and effectively. These qualifications should include experience, training, and any certifications or licenses required by local or national regulations.