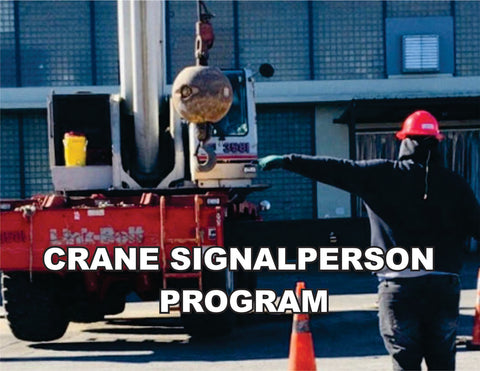 Crane Signal Person Program - ISNetworld RAVS Section - US
$ 24.95
Crane Signal Person Program - ISNetworld RAVS Section - US
This Crane Signal Person Program (ISNetworld® RAVS®* Section), in addition to being a complete and functioning written safety program (chapter), it also contains all the required text elements that are sought by the ISNetworld RAVS® (Review And Verification Service) reviewer. This plan has been previously submitted and has achieved a 100% approval rating for our clients. 
All programs are guaranteed now and in the future to achieve 100% approval. 
There are NO maintenance or subscription fees. 
Simply notify us if any program falls out of compliance and we will correct it at NO CHARGE. 
You are downloading a MicroSoft® Word document file to your computer that is completely editable: 
Crane Signal Person Program:
Approximate Word Count: 1360
Approximate Number of Pages: 4
Page Reference Answers to RAVS Reviewer's Questions: 5
 You will also receive instructions for a simple two-step process to place your company name and safety person's name throughout this word document to conform it to your company. Please review, and feel free to alter or add to it as you wish with any specific company information or safety policies that you may already have.
The first two pages of the document are guidelines for conforming this safety manual section, an index for completing the RAVS® questionnaire (with all page references), and uploading the section.
If you experience any difficulty filling out the questionnaire, or have any questions in general about these documents, call 314-570-0072, or e-mail me at vsunshine1@gmail.com.
An excerpt from ISNetworld® RAVS®* Safety plan Crane Signal Person Program
PURPOSE

The safety of equipment operations depends in many situations on signals given to the operator. It is critical that the operator understand the signals given, and the signals person must therefore be able to give clear, accurate and appropriate signals that clearly convey the needed information.

DEFINITIONS

Audible signal means a signal made by a distinct sound or series of sounds. Examples include, but are not limited to, sounds made by a bell, horn, or whistle.
Competent person means one who is capable of identifying existing and predictable hazards in the surroundings or working conditions which are unsanitary, hazardous, or dangerous to employees, and who has authorization to take prompt corrective measures to eliminate them.
Dedicated channel means a line of communication assigned by Replace with Company Name who controls the communication system to only one signal person and crane/derrick or to a coordinated group of cranes/derricks/signal person(s).
Directly under the load means a part or all of an employee is directly beneath the load.
Qualified evaluator (not a third party) means a person employed by the signal person's employer who has demonstrated that he/she is competent in accurately assessing whether individuals meet the Qualification Requirements for a signal person.
Qualified evaluator (third party) means an entity that, due to its independence and expertise, has demonstrated that it is competent in accurately assessing whether individuals meet the Qualification Requirements for a signal person.
Qualified person means a person who, by possession of a recognized degree, certificate, or professional standing, or who by extensive knowledge, training and experience, successfully demonstrated the ability to solve/resolve problems relating to the subject matter, the work, or the project.
Standard Method means the protocol in Appendix A for hand signals. Signal Person Requirements

GENERAL REQUIREMENTS

A signal person will be provided in each of the following situations: The point of operation, meaning the load travel or the area near or at load placement, is not in full view of the operator, or when the equipment is traveling, the view in the direction of travel is obstructed, or when due to site specific safety concerns, either the operator or the person handling the load determines that it is necessary. [1]