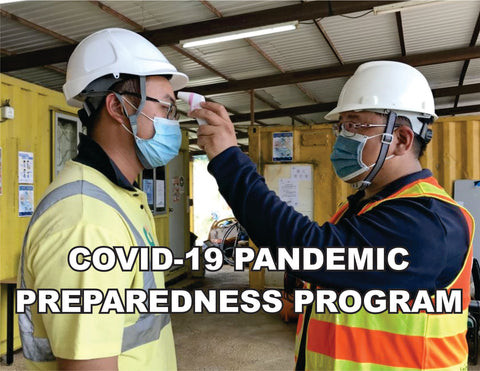 COVID 19 Pandemic Preparedness Program - ISNetworld RAVS Section - US
$ 34.95
COVID-19 Pandemic Preparedness Program - ISNetworld RAVS Section - US
This COVID 19 Pandemic Preparedness Program (ISNetworld® RAVS®* Section), in addition to being a complete and functioning written safety program (chapter), it also contains all the required text elements that are sought by the ISNetworld RAVS® (Review And Verification Service) reviewer. This plan has been previously submitted and has achieved a 100% approval rating for our clients. 
All programs are guaranteed now and in the future to achieve 100% approval. 
There are NO maintenance or subscription fees. 
Simply notify us if any program falls out of compliance and we will correct it at NO CHARGE. 
You are downloading a MicroSoft® Word document file to your computer that is completely editable: 
COVID 19 Pandemic Preparedness Program:
Approximate Word Count: 3,160
Approximate Number of Pages: 10
Page Reference Answers to RAVS Reviewer's Questions: 12 
 You will also receive instructions for a simple two-step process to place your company name and safety person's name throughout this word document to conform it to your company. Please review, and feel free to alter or add to it as you wish with any specific company information or safety policies that you may already have.
The first two pages of the document are guidelines for conforming this safety manual section, an index for completing the RAVS® questionnaire (with all page references), and uploading the section.
If you experience any difficulty filling out the questionnaire, or have any questions in general about these documents, call 314-570-0072, or e-mail me at vsunshine1@gmail.com.
An excerpt from ISNetworld® RAVS®* Safety plan COVID 19 Pandemic Preparedness Program
Overview

Business continuity means ensuring that essential business functions can survive a natural disaster, technological failure, human error, or other disruption. Many existing business continuity plans anticipate disruptions such as fires, earthquakes, and floods; these events are restricted to certain geographic areas, and the time frames are fairly well defined and limited. Pandemic flu, however, demands a different set of continuity assumptions since it will be widely dispersed geographically and potentially arrives in waves that could last several months at a time. Business continuity plans should be prepared so that if significant absenteeism or changes in business practices are required business operations can be effectively maintained. [5]

Depending on the flu strain and based on previous pandemics, public health officials project cumulative absentee rates of 25-30 percent over three to four months. Absentees will include sick employees, and those who must care for others who are sick. Fear will also impact rates of absenteeism.

If a pandemic flu strikes, government health officials will issue information, warnings and work with the media to disseminate advice on how to avoid becoming ill. Company managers, human resource departments, and employees should pay close attention to the guidance provided by local and state health departments.

In a worse-case scenario, "business as usual" may cease. Government health officials may have to implement dramatic measures, including shutting down certain businesses that involve high levels of interaction with the public, such as restaurants and theatres. Health officials may also have to restrict travel, cancel public events such as concerts or sports, and close schools.