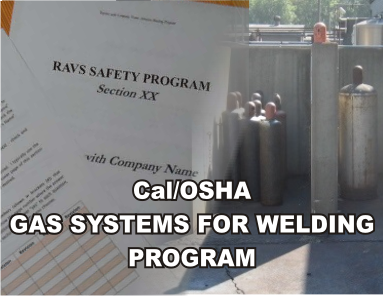 Cal/OSHA Gas Systems for Welding Program - ISNetworld RAVS Section - US
$ 29.95
Cal/OSHA Gas Systems for Welding Program - ISNetworld RAVS Section - US
This Cal/OSHA Gas Systems for Welding Program (ISNetworld® RAVS®* Section), in addition to being a complete and functioning written safety program (chapter), it also contains all the required text elements that are sought by the ISNetworld RAVS® (Review And Verification Service) reviewer. This plan has been previously submitted and has achieved a 100% approval rating for our clients.
All programs are guaranteed now and in the future to achieve 100% approval. 
There are NO maintenance or subscription fees. 
Simply notify us if any program falls out of compliance and we will correct it at NO CHARGE.
 You are downloading a MicroSoft® Word document file to your computer that is completely editable:
Cal/OSHA Gas Systems for Welding Program:
Approximate Word Count: 4,900
Approximate Number of Pages: 13
Page Reference Answers to RAVS Reviewer's Questions: 2
 You will also receive instructions for a simple two-step process to place your company name and safety person's name throughout this word document to conform it to your company. Please review, and feel free to alter or add to it as you wish with any specific company information or safety policies that you may already have.
The first two pages of the document are guidelines for conforming this safety manual section, an index for completing the RAVS® questionnaire (with all page references), and uploading the section.
If you experience any difficulty filling out the questionnaire, or have any questions in general about these documents, call 314-570-0072, or e-mail me at vsunshine1@gmail.com.
An excerpt from ISNetworld® RAVS®* Safety plan Cal/OSHA Gas Systems for Welding Program

Introduction

This chapter contains guidelines and requirements for the safe use of flammable and/or compressed gases. It covers the use of flammable-gas piping systems, high-pressure gas cylinders, manifolded cylinders, and compressed air.

Training

Only trained employees are authorized to work or maintain this equipment. Employees in charge of the oxygen or fuel-gas supply equipment including generators, and oxygen or fuel-gas distribution piping systems shall be instructed for this work before being left in charge. [1] Cutters, welders and their supervisors must be suitably trained in the safe operations of their equipment and the safe use of the process.

Hazards

All gases must be used in a manner that will not endanger personnel or property in routine shop use or experimental operations. Hazards associated with handling and use of flammable and/or high-pressure gases include the following:

Injuries caused by flying objects accelerated by an explosion or pressure release:

Asphyxiation;:

Secondary accidents such as falls or electrical shocks:

Fire caused by ignition of flammable gases:

Confined spaces: Ventilation is required, prohibiting cylinders in the space, lifelines for permit-required spaces, electrode removal when not in use, and gas cylinder shutoff when not in use and warning signs are required. Cylinders containing oxygen or acetylene or other fuel or gas shall not be taken into confined spaces. [6] The RSO, Replace with Safety Person's Name. shall be consulted prior to welding or cutting in any confined space.

Hazardous Fumes, Gases, Dusts: Any welding, cutting or burning of lead base metals, zinc, cadmium, mercury, beryllium or exotic metals or paints not listed here shall have proper ventilation or respiratory protection. [2]