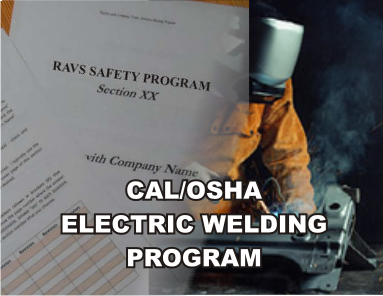 Cal/OSHA Electric Welding Program - ISNetworld RAVS Section - US
$ 24.95
Cal/OSHA Electric Welding Program - ISNetworld RAVS Section - US
This Cal/OSHA Electric Welding Program (ISNetworld® RAVS®* Section), in addition to being a complete and functioning written safety program (chapter), it also contains all the required text elements that are sought by the ISNetworld RAVS® (Review And Verification Service) reviewer. This plan has been previously submitted and has achieved a 100% approval rating for our clients.
All programs are guaranteed now and in the future to achieve 100% approval. 
There are NO maintenance or subscription fees. 
Simply notify us if any program falls out of compliance and we will correct it at NO CHARGE.
 You are downloading a MicroSoft® Word document file to your computer that is completely editable:
Cal/OSHA Electric Welding Program:
Approximate Word Count: 2,250
Approximate Number of Pages: 6
Page Reference Answers to RAVS Reviewer's Questions: 6
 You will also receive instructions for a simple two-step process to place your company name and safety person's name throughout this word document to conform it to your company. Please review, and feel free to alter or add to it as you wish with any specific company information or safety policies that you may already have.
The first two pages of the document are guidelines for conforming this safety manual section, an index for completing the RAVS® questionnaire (with all page references), and uploading the section.
If you experience any difficulty filling out the questionnaire, or have any questions in general about these documents, call 314-570-0072, or e-mail me at vsunshine1@gmail.com.
An excerpt from ISNetworld® RAVS®* Safety plan Cal/OSHA Electric Welding Program

Procedures

Prior to beginning welding or cutting operations, workers must check that the machine, all electrode holders and cable are capable of carrying the maximum current, are properly insulated and grounded, and have been maintained in good working condition. Manual electrode holders must be specific to welding and cutting, and capable of handling the maximum current required for the operation. All current carrying parts gripped by the user must be insulated against the maximum voltage to ground.

Arc welding and cutting cables must be insulated, flexible, capable of handling the maximum current required by the operation, taking into account the duty cycles, and must not have bare or worn conductors. When a cable other than the lead wears and exposes bare conductors, the portion exposed shall not be used until it is protected by insulation equivalent in performance capacity to the original. Cables must be free of repair or splice from 10' (3m) of the electrode holder unless insulated connectors or splices with insulating quality equal to that of the cable are provided. [2] Exposed metal parts must be insulated. The area must be free of chlorinated solvent vapors within 50 feet of the exposed arc; surfaces prepared with chlorinated solvents shall be thoroughly dry before welding is performed on them.

To protect workers or other personnel from the arc rays, noncombustible or flameproof screens or shields shall be used, or personnel in the area shall wear appropriate goggles. Where the work permits, the welder shall be enclosed in an individual booth painted with a finish of low reflectivity, such as zinc oxide and lamp black, or shall be enclosed with noncombustible screens having a similar low reflectivity finish. Booths and screens shall permit circulation of air at floor level. Workers or other persons adjacent to the welding areas shall be protected from the rays by noncombustible or flameproof screens or shields or shall be required to wear appropriate goggles. [1]