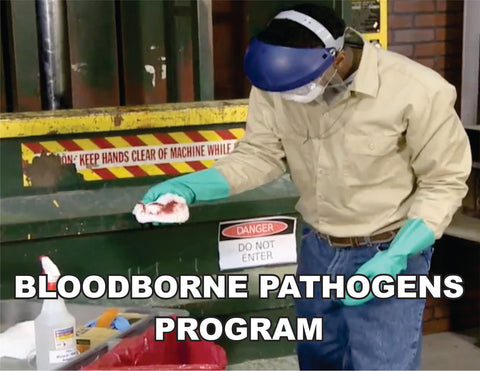 Bloodborne Pathogens Program - ISNetworld RAVS Section - US
$ 29.95
Bloodborne Pathogens Program - ISNetworld RAVS Section - US
This Bloodborne Pathogens Program (ISNetworld® RAVS®* Section), in addition to being a complete and functioning written safety program (chapter), it also contains all the required text elements that are sought by the ISNetworld RAVS® (Review And Verification Service) reviewer. This plan has been previously submitted and has achieved a 100% approval rating for our clients. 
All programs are guaranteed now and in the future to achieve 100% approval. 
There are NO maintenance or subscription fees. 
Simply notify us if any program falls out of compliance and we will correct it at NO CHARGE. 
You are downloading a MicroSoft® Word document file to your computer that is completely editable: 
Bloodborne Pathogens Program:
Approximate Word Count: 2,975
Approximate Number of Pages: 10
Page Reference Answers to RAVS Reviewer's Questions: 8 
 You will also receive instructions for a simple two-step process to place your company name and safety person's name throughout this word document to conform it to your company. Please review, and feel free to alter or add to it as you wish with any specific company information or safety policies that you may already have.
The first two pages of the document are guidelines for conforming this safety manual section, an index for completing the RAVS® questionnaire (with all page references), and uploading the section.
If you experience any difficulty filling out the questionnaire, or have any questions in general about these documents, call 314-570-0072, or e-mail me at vsunshine1@gmail.com.
An excerpt from ISNetworld® RAVS®* Safety plan Bloodborne Pathogens Program
    Purpose

This program is for all employees of Replace with Company Name who may possibly be exposed to microbial contamination in the conduct of their job. This Bloodborne Pathogens Cleaning and Disinfection plan includes requirements for personal protective equipment, housekeeping, training, and disposal. Replace with Company Name shall ensure that all employees with occupational exposure participate in a training program. If Replace with Company Name determines that it has employees with occupational exposure, then the Responsible Safety Officer (RSO), Replace with Safety Person's Name shall prepare an exposure determination. The exposure determination shall be made without regards to the use of personal protective equipment.


Responsibilities

If a need for an Exposure Control Plan is determined, the RSO, Replace with Safety Person's Name will handle the Bloodborne Pathogen Program and maintain records of any training and/ or inspections required. The RSO shall ensure that a copy of the Exposure Control Plan is readily accessible to employees in accordance with 29 CFR 1910.1020(e). [4] <4> This plan has detailed steps to take in the event of an exposure incident. PPE requirements are listed in the plan. For instance, employees of Replace with Company Name who have been trained in First Aid and are expected to provide emergency care would be expected to have exposure.

Hierarchy of Controls – dealing with any hazards in the workplace typically utilizes some version of hierarchy of control to determine the best course of action to address hazards. This typically is order of preference is eliminating- substituting- isolating the hazard, however in the case of potential microbial environmental hazards these first three steps are not considered an option in that we're working from the assumption that under this engineering, administrative, and PPE are the practical hierarchy of controls.

1. Eliminating the Risk
2. Substituting the Risk
3. Isolate the Risk
4. Engineering Controls
5. Administrative Controls
6. Personal Protective Equipment


Engineering Controls - prevention of exposure to bloodborne pathogens; engineering controls include proper storage facilities and containers and disinfectant equipment. Work practice controls shall be used to eliminate or minimize worker exposure.