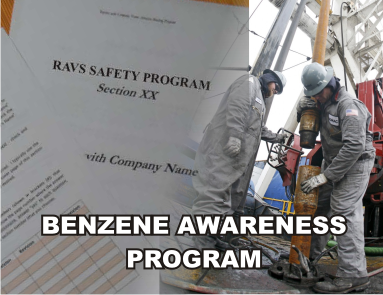 Benzene Awareness Program - ISNetworld RAVS Section - US
$ 29.95
Benzene Awareness Program - ISNetworld RAVS Section - US
This Benzene Awareness Program (ISNetworld® RAVS®* Section), in addition to being a complete and functioning written safety program (chapter), it also contains all the required text elements that are sought by the ISNetworld RAVS® (Review And Verification Service) reviewer. This plan has been previously submitted and has achieved a 100% approval rating for our clients.
All programs are guaranteed now and in the future to achieve 100% approval. 
There are NO maintenance or subscription fees. 
Simply notify us if any program falls out of compliance and we will correct it at NO CHARGE.
You are downloading a MicroSoft® Word document file to your computer that is completely editable:
Benzene Awareness Management Program:
Approximate Word Count: 3,945
Approximate Number of Pages: 10
Page Reference Answers to RAVS Reviewer's Questions: 7
 You will also receive instructions for a simple two-step process to place your company name and safety person's name throughout this word document to conform it to your company. Please review, and feel free to alter or add to it as you wish with any specific company information or safety policies that you may already have.
The first two pages of the document are guidelines for conforming this safety manual section, an index for completing the RAVS® questionnaire (with all page references), and uploading the section.
If you experience any difficulty filling out the questionnaire, or have any questions in general about these documents, call 314-570-0072, or e-mail me at vsunshine1@gmail.com.
An excerpt from ISNetworld® RAVS®* Safety plan Benzene Awareness Management Program
     …           Regulated Areas.
     Replace with Company Name shall establish a regulated area wherever the airborne concentration of benzene exceeds or can reasonably be expected to exceed the permissible exposure limits, either the 8-hour time weighted average exposure of 1 ppm or the short-term exposure limit of 5 ppm for 15 minutes.  Access to regulated areas shall be limited to authorized persons.  Regulated areas shall be determined from the rest of the workplace in any manner that minimizes the number of employees exposed to benzene within the regulated area.
      Exposure Monitoring.
     Determinations of employee exposure shall be made from breathing zone air samples that are representative of each employee's average exposure to airborne benzene. Representative 8-hour TWA employee exposures shall be determined on the basis of one sample or samples representing the full shift exposure for each job classification in each work area.  Determinations of compliance with the STEL shall be made from 15 minute employee breathing zone samples measured at operations where there is reason to believe exposures are high, such as where tanks are opened, filled, unloaded or gauged; where containers or process equipment are opened and where benzene is used for cleaning or as a solvent in an uncontrolled situation. Replace with Company Name may use objective data, such as measurements from brief period measuring devices, to determine where STEL monitoring is needed.  Except for initial monitoring as required, where the  employer can document that one shift will consistently have higher employee exposures for an operation, Replace with Company Name shall only be required to determine representative employee exposure for that operation during the shift on which the highest exposure is expected.
         Initial Monitoring.
     Each employer who has a place of covered employment shall monitor each of these
workplaces and work operations to determine accurately the airborne concentrations of benzene to which employees may be exposed.   The administration of this monitoring program is the responsibility of the RSO, Replace with Safety Person's Name.  The initial monitoring required shall be completed by 60 days after the effective date of this standard or within 30 days of the introduction of benzene into the workplace.  Where Replace with Company Name has monitored, and the monitoring satisfies all other requirements, Replace with Company Name may rely on such earlier monitoring results. 
      Periodic Monitoring and Monitoring Frequency.
     If the monitoring reveals employee exposure at or above the action level but at or below the TWA, Replace with Company Name shall repeat such monitoring for each such employee at least every year.  If the monitoring reveals employee exposure above the TWA, Replace with Company Name shall repeat such monitoring for each such employee at least every six (6) months.  Replace with Company Name may alter the monitoring schedule from every six months to annually for any employee for whom two consecutive measurements taken at least 7 days apart indicate that the employee exposure has decreased to the TWA or below,
but is at or above the action level.  Monitoring for the STEL shall be repeated as necessary to evaluate exposures of employees subject to short term exposures. ....